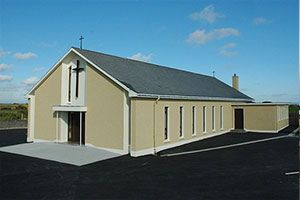 Wednesday Evening MASS
7.00 p.m.
Mass is celebrated in Lisdeen Church on Wednesday evenings at 7.00p.m
Records indicate the presence of a chapel at Lisdeen as early as 1760, which was the parish church until the construction of Michael Comyn's church in Kilkee in 1831. At some time between 1806 and 1810 another church was built there, a small cruciform structure, whose roof was made of pointed flagstones. It was demolished in 1963 after the present St. Flannan's Church, the second church in the parish, was built at Garraun. St. Flannan's is a small church of simple design, built to accommodate 240 persons. Altar, seating and other furnishings were transferred to it from the old church at Kilkee. The churches at Kilkee and Garraun were dedicated on the same day in July 1963 by Bishop Joseph Rodgers.
On Dec 18th 2011 a stained glass window depicting St. Flannan was dedicated by Bishop Kieran O' Reilly. This window, which is in the Sanctuary area of the Church, was originally housed in Kilkee Church.
To mark the 50th Anniversary of the construction and dedication of the two parish Chruches at Lisdeen and Kilkee a Remembrance Prayer Room was desigend and opened in the former Mortuary Chapel area of Kilkee Church on Easter Sunday, 31st March 2013.