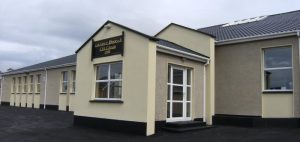 Saint Joseph's Community College (1990) is an amalgamation of two long established second level schools in Kilkee.
The Sisters of Mercy set up a Primary School for girls in Kilkee in 1878. In the 1943 the sisters opened a Secondary Top. This was a continuation of the Primary School. The students were eligible for the certificate examinations. In 1960, the Secondary Top was recognised as a full Secondary School. The schools, primary and second level, were attached to the existing convent building, beside the church.
The Vocational School was established in 1969, by Clare VEC, to provide a comprehensive technical education for local students. The students sat Group Certificate and Intermediate Certificate Examinations each year.
In 1972 cooperation between both schools, through a joint Leaving Certificate programme, enhanced the range of subjects available to students. The Vocational School Students studied English, Gaeilge and Maths, for Leaving Certificate, at the Convent Secondary School and continued the study of the technical subjects, to Leaving Certificate Level, at the Vocational School. This arrangement operated successfully between the two schools until amalgamation in 1990.
In 1990 rationalisation of the two post primary schools took place, leading to the creation of Kilkee Community College.
The College offers a wide choice of subjects to all students. First Year students take a "taster timetable" for one year. During this year each student attends classes in Gaeilge, English, French, Maths, Business Studies, Social Personal & Health Education, Home Economics, Civic Social & Personal Education, Geography, Religious Education, Physical Education, Computing, Metalwork, Woodwork, History, Technical Graphics, Science, Art.  At the end of First Year students select the eleven subjects to be taken to Junior Cert.
Subjects studied at senior cycle, i.e. for the Leaving Certificate Examination include: Gaeilge, French, English, Maths, Accounting, Agricultural Science, Chemistry, Biology, Construction Studies, Design & Communications Graphics, Art, Engineering Studies. College staff includes a Chaplain and a Guidance Counsellor.
Both male and female students play schools' Gaelic football and basketball. A Junior Boys' team is involved in schools' rugby. Athletes from the college have participated successfully in Cross Country as well as Track & Field events at county, provincial and national levels. In 2009 the Intermediate Boys' and the Junior Girls' teams completed in the All-Ireland Schools' Cross Country in Belfast.